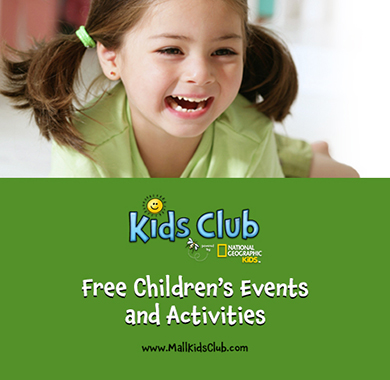 Kids Club: Powered by Nat Geo Kids
October 21, 2017 3:00 PM - 4:00 PM
Free, fun & educational games and activities for kids!

The Pacific View Kids Club is a great opportunity for your child to learn in a fun and interactive setting. We've teamed up with National Geographic Kids to create activities and games that focus on discovery through play.
Kids Club takes place every third Saturday of the month from 3-4pm in Center Court. Our Kids Club sponsor is the Community Memorial Health System.
Our special guest this month will be My Gym Ventura, they will be sharing information about how to keep children healthy by making fitness fun! They will have interactive activities for Kids Club members.
My Gym has developed an extraordinary program and facility devised to help children 6 weeks thru 10 years of age develop physically, cognitively and emotionally.


Parents & Kids in attendance will have the opportunity to win a prize!