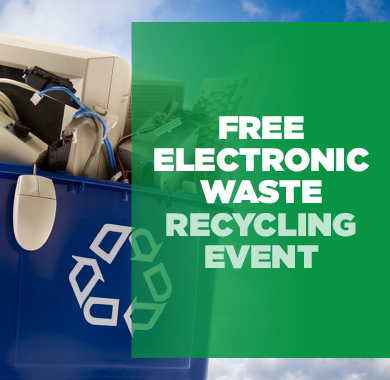 E-Waste Recycling Event
October 21, 2017 through October 22, 2017
FREE Electric Waste Recycling Event!

The event takes place in the parking lot near Sears, along Main St. Hours are 9am-4pm.
E-Waste is any consumer electronic equipment that has reached its 'end-of-life' or 'end-of-usage,' whether in full or non-working condition. It includes most electronics or electric appliances with a cord or circuit board such as:

Computer Monitors, Television Sets, PC Systems, Printers, Laptops, Copiers, Scanners, Fax Machines, Toner Cartridges, UPS & PDAs, Power Supplies, Main Frame Units, Networking Equipment, Mother Board Systems, VCR/VCD/DVD Players, Home Entertainment Systems, Landline and Cellular Phones, & Small Portable Devices. We also accept Car and Forklift Batteries. There is a $5 service charge for Microwave Ovens & A/C units.
We do not accept: Fluorescent Light Bulbs and Household Batteries.