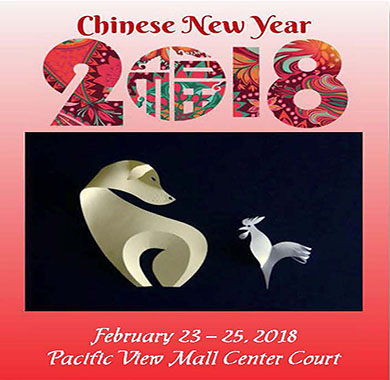 Chinese New Year Community Celebration
Now through February 25, 2018
Ring in the Year of the Dog with traditional cultural performances and arts & crafts.

February 23: Time: 1pm in Center Court
Artist BiJian Fan will erect a dog house made from "bricks" constructed using origami techniques and recycled paper. He will also create a dog for the dog for the house out of paper. Students from nearby schools will be invited to attend artist demonstration of origami techniques and the use of the abacus to help better understand math concepts.

February 24: Time: 1pm in Center Court
Artist Christine Leong will conduct a painting demonstration at Center Court. She will do ink and wash dog portraits which she will then raffle off to the audience at the conclusion of her demonstration.

February 25: Time: 1pm in Center Court
The Camarillo Kung Fu & Lion Dance Studio will perform the traditional Lion Dance in full traditional costumes. This will be the concluding highlight of the celebration.