Certified Farmers' Market
Now through December 30, 2020
|
Parking lot, in front of Red Robin
---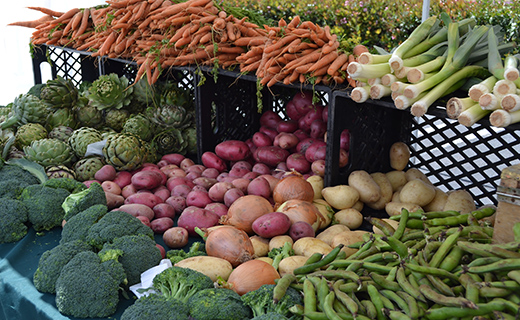 Join Us at the Midtown Ventura Farmers' Market every Wednesday!
9:00am-1:00pm
Parking lot in front of Red Robin
Enjoy a wonderful outdoor shopping experience with California farmers bringing you the freshest, vine and tree ripened fruits and vegetables. Other California agricultural items include: fresh meat products, herbs, honey, eggs, whole and shelled nuts, cheese, olive oil, fruit juices, jams, jellies, cut flowers and potted plants. Wonderful artisan bakery products, ethnic foods and tasty hot foods prepared onsite. Ocean fish fresh from the boat is also a real treat offered here.

The Midtown Ventura location has been open since 1989 and was the second certified farmers' market opened in Ventura County and offers access to over 25 California farmers and food vendors each week.

Bring the family and have fun! Sample new and exciting products. Open year-round, rain or shine. SNAP/EBT customers welcome. Redemption's authorized at Market Information Booth.

Sorry No Pets! California state health laws restrict all animals from the markets, except service animals


For more information, visit VENTURA CERTIFIED FARMERS MARKET
Kids Zone Event - Back-To-School Pencil Pouch
July 13, 2019 11:00 AM - 12:00 PM | JCPenney
Come join us on July 13th from 11am to 12pm to color a cool IZOD pencil pouch at the JCPenney Kids Z...
Food Truck Friday
July 19, 2019 5:00 PM - 9:00 PM
Join us in the parking lot along Mills Rd. between Main St. and Telegraph Rd. the third Friday of th...