Certified Farmers' Market
Ongoing
|

Parking lot, in front of Red Robin
---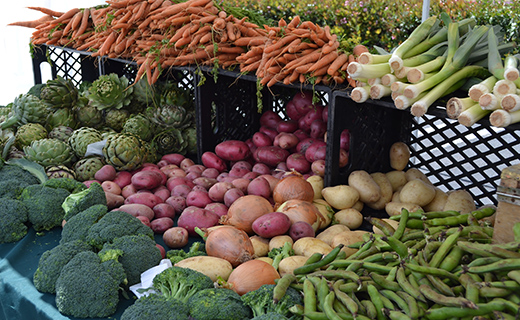 Join Us at the Midtown Ventura Farmers' Market every Wednesday!
9:00am-1:00pm

Located in the parking lot in front of Red Robin
Note: The Farmers Market will remain open during this time. Please refer to https://www.vccfm.org/covid19 for more details or questions.
Enjoy a wonderful outdoor shopping experience with California farmers bringing you the freshest, vine and tree ripened fruits and vegetables. Other California agricultural items include: fresh meat products, herbs, honey, eggs, whole and shelled nuts, cheese, olive oil, fruit juices, jams, jellies, cut flowers and potted plants. Wonderful artisan bakery products, ethnic foods and tasty hot foods prepared onsite. Ocean fish fresh from the boat is also a real treat offered here.

The Midtown Ventura location has been open since 1989 and was the second certified farmers' market opened in Ventura County and offers access to over 25 California farmers and food vendors each week.

Bring the family and have fun! Sample new and exciting products. Open year-round, rain or shine. SNAP/EBT customers welcome. Redemption's authorized at Market Information Booth.

Sorry No Pets! California state health laws restrict all animals from the markets, except service animals


For more information, visit Ventura Certified Farmers Market
Kids Club
Now through December 31, 2021
Since it's challenging for little ones to social distance, but we still want to connect members of o...
Covid Clinic
Ongoing
COVID Clinic was founded by Dr. Matthew Abinante and is led by an incredible group of conscientious ...